Emerge from the Pandemic with Toni Morgan by AMP Concerts
July 2, 2021 @ 7:30 pm

-

9:00 pm
BUY TICKETS NOW! They are also available by phone through Hold My Ticket at 505-886-1251. Tickets cost $20 (including all service charges).
Emerge from the Pandemic with live music at a beautiful outdoor performance space at Casa Flamenca! The space can hold around 160 people at full capacity. We are currently selling 120 (75% capacity, as per current health orders).  This is a great way to get used to going out again with a killer lineup of many of Albuquerque's best artists. Come out and support local music and check out this amazing new community space. Casa Flamenca created this space in the fall while dealing with the devastating impact of the pandemic on their business. A portion of the proceeds from each show will go to help them pay for the cost of building this space (around $10K, so a substantial investment!). If you would like to make additional donations to support them, you'll have an opportunity to do that when you buy your tickets or you can DONATE NOW.
SEATING: We have enough seating to accommodate everyone!
PARKING: There is plenty of street parking, but you are also welcome to park at Monica's El Portal across the street. Big thanks to Monica for letting us use their lot after hours!
CONCESSIONS: We have drinks (water, soda, sparkling water), chips & cookies and sometimes light snacks and homemade goodies.
Masks are not required if vaccinated.  They are encouraged for lining up, checking in and entry.  Most people are not wearing masks for the majority of the evening outside.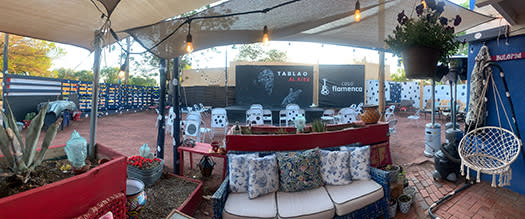 Toni Morgan moved to New Mexico in 2013 from Fort Collins, CO. She is a former background singer for the Empress of Soul, Mrs. Gladys Knight. Since her time here, Toni has had the opportunity to sing with many of our local artists, including Jim Casey and Got Soul, Hillary Smith, Tracy Whitney, Joe Warner of Joe Daddy Blues and many others. She has also performed in various events in New Mexico, including several versions of Roots Revival, written and produced by Ms. Cathryn McGill. Toni loves to sing and perform and tries to be inspiring to others through her music.
---