Emerge from the Pandemic with Silver String Band & Eryn Bent by AMP Concerts
May 29, 2021 @ 7:30 pm

-

9:00 pm
BUY TICKETS NOW! They are also available by phone through Hold My Ticket at 505-886-1251. Tickets cost $20 (including all service charges).
Emerge from the Pandemic with live music at a beautiful outdoor performance space at Casa Flamenca! The space can hold around 120 people at full capacity. With 3-foot distancing, we are going to sell 80 tickets. This is a great way to get used to going out again with a killer lineup of many of Albuquerque's best artists. Come out and support local music and check out this amazing new community space. Casa Flamenca created this space in the fall while dealing with the devastating impact of the pandemic on their business. A portion of the proceeds from each show will go to help them pay for the cost of building this space (around $10K, so a substantial investment!). If you would like to make additional donations to support them, you'll have an opportunity to do that when you buy your tickets or you can DONATE NOW.
Masks required when not eating or drinking. Doors open at 7:00 pm.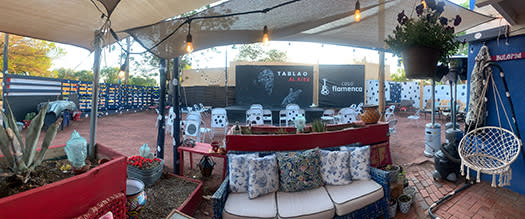 PARKING: There is plenty of street parking, but you are also welcome to park at Monica's El Portal across the street. Big thanks to Monica for letting us use their lot after hours!

Known for their exceptional songwriting, unique covers, and pushing the boundaries of traditional bluegrass music, this "rowdygrass" ensemble balances high-energy, boot-scooting music with enchanting, soulful songs that will pluck at your heartstrings.
Formed in 2015, Silver String Band immediately captured the attention of the booming music scene in Albuquerque. After a year of playing the brewery stage circuit, they released their first self-titled studio album in the fall of 2016, which led to notable local and regional growth as they made a name for themselves and embarked on a tri-state tour.
Their second studio album, Keep Running, was released in the spring of 2018 and reflects on the toils of young adulthood, bucolic landscapes, and pays homage to a number of musical styles including bluegrass, grunge, punk, jazz, gospel, and country music. Currently, they are focused on writing new material.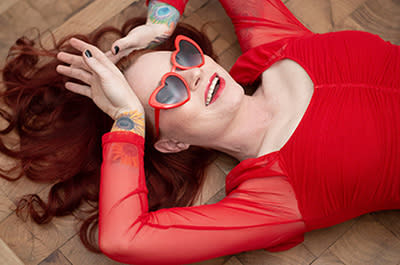 Santa Fe-based singer-songwriter Eryn Bent has been enchanting audiences since age 14, with her powerhouse vocals and honest, gritty songwriting. Born and raised in Montana, Eryn has deep, Western roots that shine through her Americana, folk-style songwriting.
---