Emerge from the Pandemic with Ryan Montano by AMP Concerts
July 30, 2021 @ 7:30 pm

-

9:00 pm
BUY TICKETS NOW! They are also available by phone through Hold My Ticket at 505-886-1251. Tickets cost $20 (including all service charges).
Emerge from the Pandemic with live music at a beautiful outdoor performance space at Casa Flamenca! The space holds 160 people.  This is a great way to get used to going out again with a killer lineup of many of Albuquerque's best artists. Come out and support local music and check out this amazing new community space. Casa Flamenca created this space in the fall while dealing with the devastating impact of the pandemic on their business. A portion of the proceeds from each show will go to help them pay for the cost of building this space (around $10K, so a substantial investment!). If you would like to make additional donations to support them, you'll have an opportunity to do that when you buy your tickets or you can DONATE NOW.
SEATING: We have enough seating to accommodate everyone!
PARKING: There is plenty of street parking, but you are also welcome to park at Monica's El Portal across the street. Big thanks to Monica for letting us use their lot after hours!
CONCESSIONS: We have drinks (water, soda, sparkling water), chips & cookies and sometimes light snacks and homemade goodies.
Masks are not required if vaccinated.  They are encouraged for lining up, checking in and entry.  Most people are not wearing masks for the majority of the evening outside.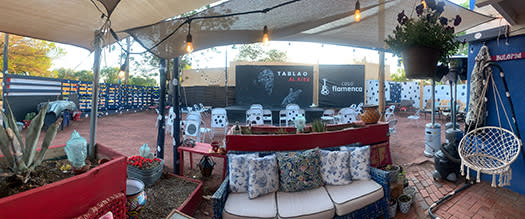 Ryan Montano is a nationally recognized trumpeter, songwriter and recording artist. His beautiful tone, memorable compositions, impactful live performances and precise technique have garnered him national radio airplay and festival performances across the nation.
His debut contemporary jazz single "I'd Like That" found nationwide popularity and acclaim by reaching the 14th position on the Billboard National Jazz Airplay chart. His follow up single "Honey Girl" peaked at #13 on Billboard after 20 consecutive weeks on the chart. "Soulfully" reached the top 15 on the Billboard National Jazz Airplay chart.
The success of his music has led to nationwide performances at jazz and music festivals across the country. His songs are a steady fixture on Sirius Satellite Radio and at terrestrial & internet radio stations across the world.
Ryan's bringing a powerhouse band to this show, consisting of:
Steve Figueroa – Keys
Arnaldo Acosta – Drums
Nick Fowler – Guitar
Justin Bransford – Bass
Rebecca Arscott – Vocals
Andrew Copper – Vocals
Ryan Montano – Trumpet & Vocals
---