Emerge from the Pandemic with Micky Cruz by AMP Concerts
June 25, 2021 @ 7:30 pm

-

9:00 pm
BUY TICKETS NOW! They are also available by phone through Hold My Ticket at 505-886-1251. Tickets cost $20 (including all service charges).
Emerge from the Pandemic with live music at a beautiful outdoor performance space at Casa Flamenca! The space can hold around 160 people at full capacity. We are currently selling 120 (75% capacity, as per current health orders).  This is a great way to get used to going out again with a killer lineup of many of Albuquerque's best artists. Come out and support local music and check out this amazing new community space. Casa Flamenca created this space in the fall while dealing with the devastating impact of the pandemic on their business. A portion of the proceeds from each show will go to help them pay for the cost of building this space (around $10K, so a substantial investment!). If you would like to make additional donations to support them, you'll have an opportunity to do that when you buy your tickets or you can DONATE NOW.
SEATING: We have enough seating to accommodate everyone!
PARKING: There is plenty of street parking, but you are also welcome to park at Monica's El Portal across the street. Big thanks to Monica for letting us use their lot after hours!
CONCESSIONS: We have drinks (water, soda, sparkling water), chips & cookies and sometimes light snacks and homemade goodies.
Masks are not required if vaccinated.  They are encouraged for lining up, checking in and entry.  Most people are not wearing masks for the majority of the evening outside.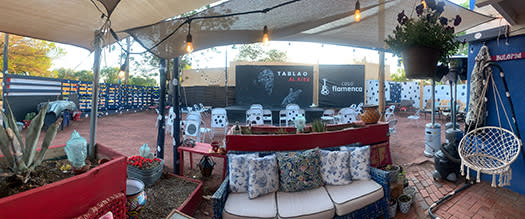 Grammy nominated artist Micky Cruz was born in Nicaragua, Central America, but his ancestry is Filipino and Mayan Indian. He was orphaned at the age of two when his family was killed in the Nicaraguan war in the late 1970s. He then raised himself on the streets of Central America and Mexico. Micky is a self-taught musician and composer who writes and produces all of his own music. His musical career began at the age of seven as a survival tactic due to the conditions of a third world country. He never thought that music would become a full-time career, but people enjoyed his voice so much that it seemed to be the natural thing to do.
Micky Cruz has performed extensively throughout the southwest as one of the premier acts taking the stage at the hottest clubs in Albuquerque and Santa Fe, casino nightclubs, and the big stages like Legends theatre and Las Vegas, Nevada. Micky Cruz is an award-winning New Mexico musician, having received the coveted Los 15 Grandes award several times.
Micky's music is best described as Cumbia, Salsa, and Reggae with an interesting, refreshing twist where Micky has combined styles together and invented "Cumbegue" music. Totally unique, cumbegue music takes the best elements of cumbia-salsa-reggae and combines them into a very strong and danceable beat coupled with great melodic hooks and harmonies, then capped off with exciting soloing throughout the band.
---