Emerge from the Pandemic with Le Chat Lunatique by AMP Concerts
June 19, 2021 @ 7:30 pm

-

9:00 pm
BUY TICKETS NOW! They are also available by phone through Hold My Ticket at 505-886-1251. Tickets cost $20 (including all service charges).
Emerge from the Pandemic with live music at a beautiful outdoor performance space at Casa Flamenca! The space can hold around 160 people at full capacity. We are currently selling 120 (75% capacity, as per current health orders).  This is a great way to get used to going out again with a killer lineup of many of Albuquerque's best artists. Come out and support local music and check out this amazing new community space. Casa Flamenca created this space in the fall while dealing with the devastating impact of the pandemic on their business. A portion of the proceeds from each show will go to help them pay for the cost of building this space (around $10K, so a substantial investment!). If you would like to make additional donations to support them, you'll have an opportunity to do that when you buy your tickets or you can DONATE NOW.
SEATING: We have enough seating to accommodate everyone!
PARKING: There is plenty of street parking, but you are also welcome to park at Monica's El Portal across the street. Big thanks to Monica for letting us use their lot after hours!
CONCESSIONS: We have drinks (water, soda, sparkling water), chips & cookies and sometimes light snacks and homemade goodies.
Masks are not required if vaccinated.  They are encouraged for lining up, checking in and entry.  Most people are not wearing masks for the majority of the evening outside.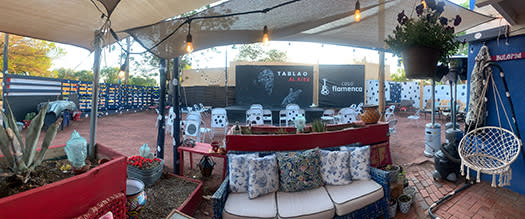 As unpredictable, fearless, and entertaining as their namesake, Le Chat Lunatique purveys an addictive genre they call "filthy, mangy jazz," a signature sound that makes you want to smoke and drink too much—if only you could get off the dance floor. Le jazz hot of Django Reinhardt and Stéphane Grappelli is their north star, but they use that beacon to navigate through a wide range of genres, blending Western swing, classical, reggae, doo-wop, and "anything else we damn well please" into strikingly original compositions and audaciously reworked standards alike.
Le Chat Lunatique is Muni Kulasinghe's theatrical vocals, his violin skittering across the music like beads of water on a hot skillet—inspired as much by a legless Polish gypsy he encountered on his vagabond travels as by the great Grappelli. It's the axe of guitarist John Sandlin, the classicist who fell under the sway of Reinhardt, felling bar after bar of music with ferocious dexterity. It's the slap-happy bass and slyly sweet vocals of Jared Putnam, the sinisterly innocent one whose dark past embraces both death metal and Western swing. It's Greg.
The group began prowling the nightspots of Albuquerque—that secret haven of hot jazz—back in 2005, spontaneously impregnating the ears of unsuspecting audience members, who found themselves unable to stop listening or dancing or making merry. From their earliest gigs, Le Chat Lunatique has offered swinging originals with ear-snagging hooks and stories to tell—well-constructed little gems that propagate earworms for ongoing pleasure.
---