Emerge from the Pandemic with John Craigie by AMP Concerts
September 13, 2021 @ 7:30 pm

-

9:00 pm
BUY TICKETS NOW! They are also available by phone through Hold My Ticket at 505-886-1251. 
Emerge from the Pandemic with live music at a beautiful outdoor performance space at Casa Flamenca! The space holds 160 people.  This is a great way to get used to going out again with a killer lineup of many of Albuquerque's best artists. Come out and support local music and check out this amazing new community space. Casa Flamenca created this space in the fall while dealing with the devastating impact of the pandemic on their business. A portion of the proceeds from each show will go to help them pay for the cost of building this space (around $10K, so a substantial investment!). If you would like to make additional donations to support them, you'll have an opportunity to do that when you buy your tickets or you can DONATE NOW.
SEATING: We have enough seating to accommodate everyone!
PARKING: There is plenty of street parking, but you are also welcome to park at Monica's El Portal across the street. Big thanks to Monica for letting us use their lot after hours!
CONCESSIONS: We have drinks (water, soda, sparkling water), chips & cookies and sometimes light snacks and homemade goodies.
Masks are not required if vaccinated.  They are encouraged for lining up, checking in and entry.  Most people are not wearing masks for the majority of the evening outside.

Photo by Jim Gale
A lot of life can happen over the course of one record. Lyrics immortalize those characters, exploits, and memories. On his 2020 Asterisk The Universe, John Craigie awkwardly encounters previous flames, mistakes a Catholic School custodian as a saint (and prays to him anyway), pays tribute to modern-day revolutionaries, and explores what it all means to live in the 21st century where infinite possibility does not necessarily equate infinite understanding. He soundtracks these stories with a score of smoked-out soul, tender folk, and American songbook eloquence billowing right from the heart of California. Progressing once more, the interplay of live drums and bass hold the music in the pocket as it simultaneously emanates an acoustic campfire glow.
With these ten tunes, his journey unfolds in between organic instrumentation and lyrical observation. "As with any album, I want the lyrics to be heard, first and foremost," he says. "This is pretty similar to other versions of who I've been and who I am. It's just one with a fresh batch of songs I'll add to my setlist and new stories to tell from the road."
Those stories from the road have endeared Craigie to the devoted fans he has earned, song by song, show by show since 2009. A Craigie performance is not just a music show, it's a collective experience. Craigie shines by telling candid stories, humorous anecdotes, and leaving everything on the stage. Fiercely independent, Craigie prolifically unveiled one highly personal album after another while logging enough miles on the road to give the Grateful Dead a run for their money. Venues got bigger and bigger as audiences clamored for more.  Capturing that electric feeling on 2016's Capricorn In Retrograde… Just Kidding… Live in Portland, Craigie wound up on Jack Johnson's car stereo on a road trip up the coast. Thoroughly impressed by what he heard, Johnson took Craigie on tour during the summer of 2017.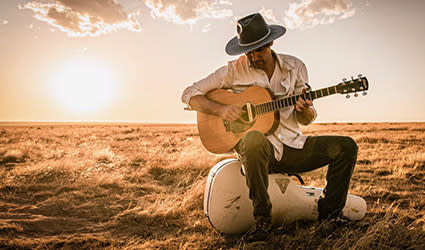 Colorado singer-songwriter Daniel Rod­­riguez turns to his acoustic guitar for  memorable, melodic hooks to accompany his poetic and contemplative folk  songs. Boulder Weekly refers to Rodriguez's voice as "timeless… deep and hearty, weathered but comforting."
With over a decade  under his belt as one of the founding members and lead songwriters of  the transcendental folk band, Elephant Revival, Rodriguez is well-versed in the Americana tour circuit. Before going on hiatus, after their third headlining Red Rocks show in May 2018, Elephant Revival had released six albums and performed countless shows and festivals across the nation as well as overseas. Needing to fill the musical void that might have become following Elephant Revival's hiatus announcement, Rodriguez immediately headed out on tour as a solo artist; he released his debut album, Sojourn of a Burning Sun, in 2020.
out songs such as "Operation Never Mind" and "Ft. Walton Wake-Up Call" on The Horse and the Hounds—consistently has turned heads for decades now. "James writes like he's lived a lifetime," said John Mellencamp back in 1989, when Too Long in the Wasteland hit the Billboard 200. "James McMurtry is one of my very few favorite songwriters on Earth and these days he's working at the top of his game," says Americana all-star Jason Isbell. "He has that rare gift of being able to make a listener laugh out loud at one line and choke up at the next. I don't think anybody writes better lyrics." McMurtry's albums Just Us Kids (2008) and Childish Things (2005) back the claim, each scoring endless critical praise. The former earned McMurtry his highest Billboard 200 chart position in two decades (since eclipsed by Complicated Game) and notched Americana Music Award nominations. Childish Things spent six full weeks topping the Americana Music Radio chart in 2005 and 2006, and won the Americana Music Association's Album of the Year, with "We Can't Make It Here" named the organization's Song of the Year. Other accolades include a 1996 Grammy nomination for Long Form Music Video for "Where'd You Hide the Body" and an American Indie Award for Best Americana Album for It Had to Happen (1997).
McMurtry tours year-round and consistently throws down unparalleled powerhouse performances, reflected in the release of two live discs: the universally lauded Live in Aught-Three on Compadre Records, and 2009's Live in Europe, which captured the McMurtry band's first European tour and extraordinary live set.