Emerge from the Pandemic with Chill House Band with Hillary Smith by AMP Concerts
July 17, 2021 @ 7:30 pm

-

9:00 pm
BUY TICKETS NOW! They are also available by phone through Hold My Ticket at 505-886-1251. Tickets cost $20 (including all service charges).
Emerge from the Pandemic with live music at a beautiful outdoor performance space at Casa Flamenca! The space holds 160 people.  This is a great way to get used to going out again with a killer lineup of many of Albuquerque's best artists. Come out and support local music and check out this amazing new community space. Casa Flamenca created this space in the fall while dealing with the devastating impact of the pandemic on their business. A portion of the proceeds from each show will go to help them pay for the cost of building this space (around $10K, so a substantial investment!). If you would like to make additional donations to support them, you'll have an opportunity to do that when you buy your tickets or you can DONATE NOW.
SEATING: We have enough seating to accommodate everyone!
PARKING: There is plenty of street parking, but you are also welcome to park at Monica's El Portal across the street. Big thanks to Monica for letting us use their lot after hours!
CONCESSIONS: We have drinks (water, soda, sparkling water), chips & cookies and sometimes light snacks and homemade goodies.
Masks are not required if vaccinated.  They are encouraged for lining up, checking in and entry.  Most people are not wearing masks for the majority of the evening outside.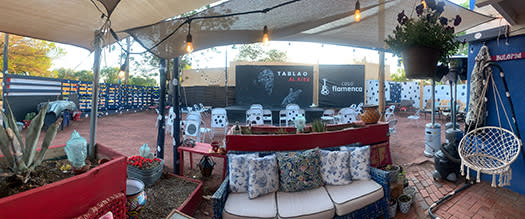 Featuring Hillary Smith, Jim Casey, Milo Jaramillo, Glenn Kostur and JD Davis
The members of the Chill House Band bring years of experience performing professionally in New Mexico and Texas. The band provides an outstanding musical experience, including popular dance music, smooth/contemporary jazz, soul, R&B, and Blues.
With a deep soulfulness rooted in the Gospel-driven churches of her youth, a classically trained vocal instrument thats a natural wonder, and a God-given instinct for swinging a lyric, vocalist Hillary Smith has been electrifying audiences across the United States for more than 30 years. A native of Hobbs, New Mexico, Hill first made her mark in the 80s with gutsy performances of rockin' blues and funk, and she's fronted a number of popular bands in the Albuquerque/Santa Fe area over the years. Chief among the early groups was the multi-award-winning Strictly Taboo, whose debut album, Playing with Fire, got heavy rotation on local and international radio. Smith has performed with hONEyhoUSe, Chris Dracup and Soul Kitchen, Hill and the Brethren and the Albuquerque Jazz Orchestra.
---